Purchase Options
Regular price
$96.00
Sale price
$76.00
Unit price
per
Sale
Sold out
View full details
Experience the 1-TDC® Cream
Elevate Your Performance, Empower Your Recovery!
Superior Absorption
1-TDC® Cream quickly permeates through ALL the layers of the skin reaching deep into muscles, joints, tendons and ligaments.
Fast Relief
1-TDC® Cream quickly permeates through ALL the layers of the skin reaching deep into muscles, joints, tendons and ligaments.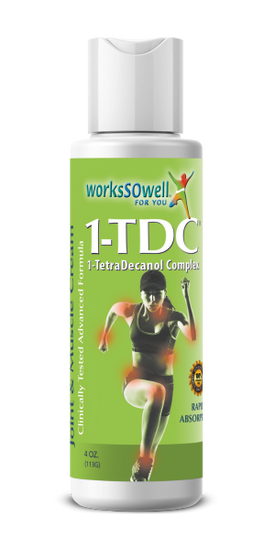 Powerful formulation
Experience the Unparalleled Power of 1-TDC®: A Potent Formulation that transforms your joints, muscles, tendons, and ligaments, improving mobility, reducing stiffness, and alleviating severe discomfort.
Play Harder
Optimize Performance and Recovery with 1-TDC® Cream: Your Essential Pre and Post-Workout Solution for Athletes
Works fast AND doesn't smell bad!
I got a bundle and shared with my mom. (We both have bad knees.) We were both blown away by how fast it starts working! My mom especially likes the fact that it "doesn't smell like an old lady" the way many pain creams do.
We will DEFINITELY buy again!
A Special MuscleTreatment
For me, 1-TDC Muscle cream if applied right when get a muscle pain, takes away the pain. My suspicion is that it attacks the imflammation before it gets really started. It also helps remove muscle aches in the middle of the night so that I can fall asleep. I always offer it to friends who are in muscle pain. The person who cuts my hair, commented that she has arthritic fingers. I gave her a partial bottle of the cream to try. She loved it and bought her own bottle.
Great Product
I've been using this cream for arthritis in my feet for years.. Works great. Fast delivery and competitive pricing. recommended by my MD of 30 years.
Satisfied Customer!
I'm very impressed with how well this product works! My chiropractor recommended it to me and now I recommend it to my friends. Thanks
The Only One Cream
At first my chiropractor recommended Biofreeze and tried many, many creams for my fibromyalgia and arthritis but the result is just OK. I am on 24/7 pain and nothing helps to relieve this excruciating pain. I am a kind of a person that does not want give up so I keep searching and found this 1-TDC cream. This is very expensive cream, I always order this in 32 oz. It does not last long because I apply it all over my body like a lotion but this is the ONLY cream that helps me ease my pain! It absorbs quick, feel the relief in few minutes after application and not greasy. The capsules have not tried yet, I am going to finish the one I'm currently taking then I will try the capsules.
I always order at Amazon, but this time I found a better price, a 'sale price' at worksSowell. My first order was lost in the mail, contacted worksSowell and I can not be happier ..... Melissa an Olivier are quick to solve the problem. They are awesome, great customer service. I will be a repeat customer and I hope that you 'll bet Amazon price too. Thank you.