I-P6 Immune Support
Support your dog's immune system and keep them healthy
100% Plant Based (Non-GMO)
The power of "IP-6 Immune Support" comes from the purity of our formulation derived from non-GMO rice bran from Japan that nourishes and promotes healthy and vibrant cells throughout your pet's entire body.
Boost Immune System
IP6 promotes and enhances your pet's own NK (Natural Killer) cells, strengthening their immune system and enabling them to better defend against health threats.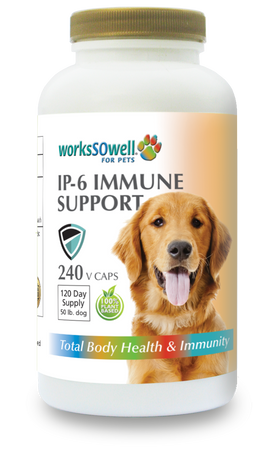 Reduce Free Radicals
IP-6 Immune Support acts as a powerful antioxidant, reducing the presence of harmful free radicals in your dog's body, protecting their cells from damage and supporting overall well-being.
Veterinary Approved
A preferred Holistic Veterinary Supplement recommended by veterinarians, promoting overall pet health.
Dosage Chart
For best results feed on an empty stomach. Twist open capsule and sprinkle contents on top of a little bit of food or just give the capsule as a treat.

Consult veterinarian first if the pet is diabetic or on a low iron diet.
Hoping it will help Mojo
I have no idea if IP-6 is helping Mojo or not. He was diagnosed with cancer in September when a tumor on his spleen burst , had an operation and is now on Chemo . Because he is on Chemo he is not taking it every day. I know that IP-6 for humans helped me when my prostate PSA was almost 14 and I got it down to 3.4 while taking IP-6 and eating a lot of anti cancer foods. He will be taking double the dose after the Chemo is done and I hope it will help him.
Awesome product!!!!!
Best ever product for putting my dogs immune system up. About 2 years ago my Rhodesian Ridgeback, named Mario, had a spindle cell cancers tumor on his leg. I did a lot of research and I know that ip6 is very good for humans as my husband took it when he had lung cancer. Along with vitamin C IV therapy this ip6 helped my husband to stay alive for quite a long time.
There are many ip6 products out there but this one is the best. It has great reviews and the place where they make it is pristine. Just want to say thumbs up for this product and thank you for making it and for giving my dog a better quality.
Great immune support
My older dog has a great immune system, and I give this some if the credit! I sprinkle and he doesn't mind it at all! Easy to give!
Easy to take
I have three Staffordshire Terriers, each one 11 y/o. Two are finicky when taking tablets or capsules. They like the taste of the contents, making it easy to dispense. I just toss one on top of their meal. No problem. It's too soon to report on health benefits. Actually, I give them this to sustain their good health, hoping it will help extend theitr present states of a good life. The same reason that I take supplements. The ingredients are excellent. Unless they develop an adverse reaction I plan to continue this part of their diet as long as they live.
Great product
My Rodesian ridgeback had a cancer growth on his leg.l had it removed and now give him this product along with other herbs.lt is definitely helping him.Ip6 is very hard to find for dogs so l am happy l found this product for Mario,and it's made right here on the USA.
..